Ben je net afgestudeerd? Of ben je op zoek naar een (nieuwe) job? Werk vinden is niet altijd even makkelijk… Een online CV plaatsen kan je zeker helpen in de zoektocht!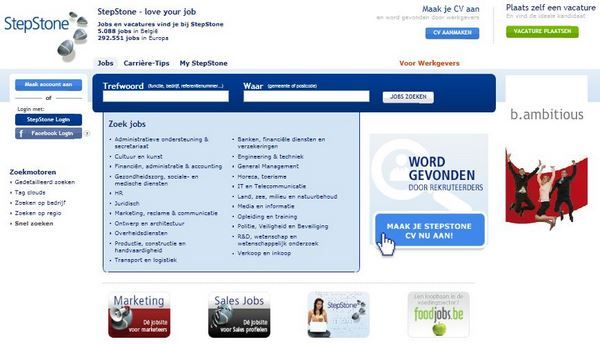 Een goede plek om een online CV te plaatsen is de Stepstone website! Dit duurt maar enkele minuten en het bespaart je heel wat tijd. Bedrijven vinden jouw profiel terug en ze kunnen je contacteren indien ze een gepaste job hebben voor jou. De kans dat je gecontacteerd wordt is heel groot, want er zijn maar liefst 4000 'bedrijven' op zoek naar werknemers. Grote kans dus dat dé perfecte job voor jou er tussen zit! Ik vind het toch wel belangrijk dat je met plezier gaat werken. Want elke dag tegen je zin gaan werken is ook niet fijn.. Gelukkig maar ben ik erg blij met mijn job! 🙂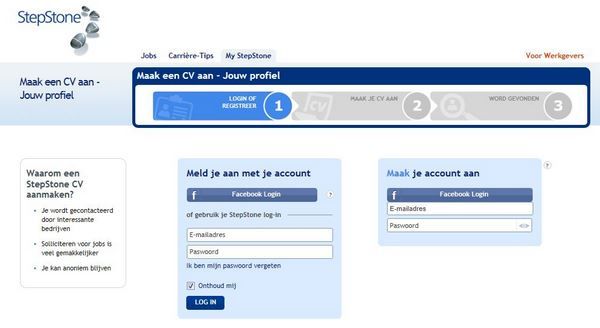 Een cv aanmaken gaat trouwens erg makkelijk, gewoon door je aan te melden met een Facebook account. Liever niet via Facebook? Geen probleem, je kan ook gewoon een account aanmaken. Je kan ook op zoek gaan naar jobs, want er staan meer dan 5000 vacatures online in België en zo'n 290000 in Europa! Je kan gedetailleerd zoeken, zoeken via sleutelwoorden of op bedrijfsnaam. Stepstone is gelanceerd in 1996 en is op dit moment al actief in 9 landen: België, Denemarken, Frankrijk, Duitsland, Nederland, Oostenrijk, Luxzmburg, het Verenigd Koninkrijk en Zweden. De websites hebben samen maandelijks meer dan 24,9 miljoen bezoekers. Kortom, ben je op zoek naar een job? Dan is je cv online plaatsen via Stepstone zeker een aanrader! Nog een leuke extra… Wanneer je nu je online CV plaatst, maak je bovendien kans op een iPad of een leuke citytrip!
Heb jij een vaste job? Of ben je op zoek?
Volg Nymphette op Twitter – Bloglovin – YouTube – Facebook – Instagram