Vandaag start alweer de maand Juni, voor velen de maand van examens, bijna vakantie én zon! Maar eerst neem ik je nog even mee naar afgelopen maand…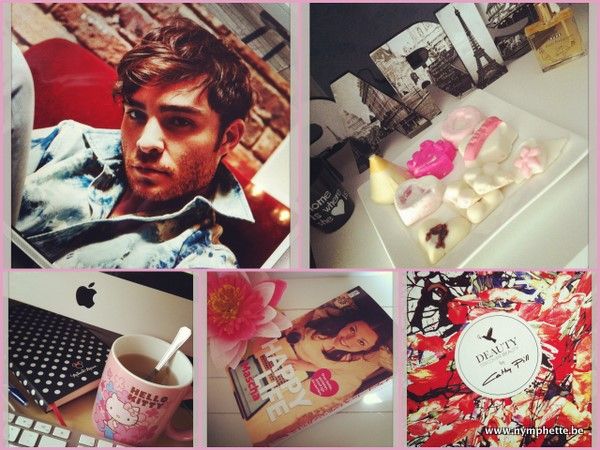 Een persbericht in je mailbox krijgen met the one and only Chuck Bass, life's good! En oh, wat mis ik Gossip Girl! Ik ruimde mijn kamer op en maakte een hoekje met mijn Lush massagebars, een leuk kaarsje en Paris letters. Blogging time met een lekker tasje thee en mijn Minnie Moleskine. In mei las ik het boek van Mascha, Happy Life. Ik vond het echt een erg leuk boek. Zoals elke maand kwam ook de Deauty box weer binnen, die zag er deze keer extra leuk uit!
In Mei kreeg ik héél wat fijne producten binnen om de testen! Lush Summer goodies, nieuwe L'Occitane producten, Yves Rocher BodySprays, het zalige parfum van Caudalie, de Body Sorbets van The Body Shop, Fa Deo's en Nivea goodies! Van sommige zag je al reviews, de andere komen eraan! 🙂
Ik heb een nieuwe favoriete thee, Lipton Green Tea Strawberry Cupcake! Mmm, zo lekker zoet! Op mijn favoriete koekjes staat een Eiffeltoren. Ze zijn trouwens van Aldi 😉 Mmm, dolle dinsdag bij Pizza Hut! We hebben kunnen genieten van enkele warme dagen en dat betekent: ijsjes!! De Calippo Lime is zoo verfrissend en lekker! En als laatste dit héérlijke wokgerechtje!
Hopelijk heb jij een fijne Mei maand gehad en staat er heel wat leuks op de planning voor Juni!
Volg Nymphette op Twitter – Bloglovin – YouTube – Facebook – Instagram