Can You Handle The Scandal? Een vrouwenparfum waar geen bloemengeur inzit? The Body Shop lanceerde het deze maand. 'Red Musk' is een speciale, maar toch heerlijke geur.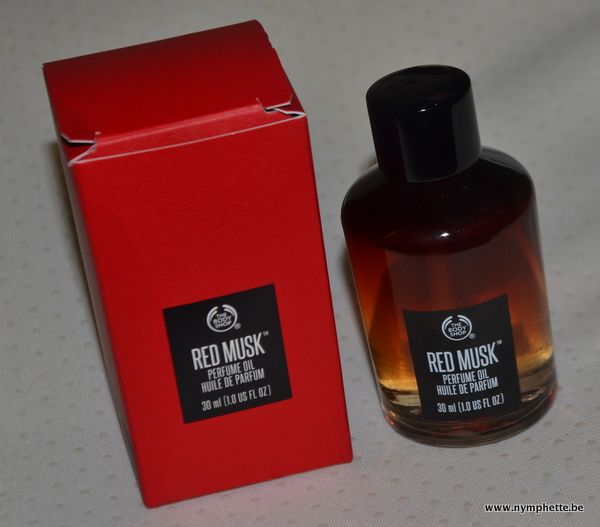 Tijdens het Kerst Event van The Body shop werd ook deze nieuwe 'Red Musk' geur voorgesteld. Ik weet nog toen de pr-dame de parfumnoten begon voor te lezen. Ik dacht echt oei, dat gaat niets voor mij zijn…
Topnoot: Peper en Musk
Hartnoot: Kaneel en Musk
Basisnoot: Tabak en Musk
Ik dacht meteen dat de geur heel rokerig ging zijn en niet zo vrouwelijk. Maar toen ik de geur rook, was ik meteen verkocht. Wat is deze héérlijk! Het is een mysterieuze, kruidige geur. Het is geen typisch girly girl parfum, maar toch is deze erg vrouwelijk. Moeilijk om deze geur te beschrijven, gewoon is aan snuffelen als je bij The Body Shop bent! 🙂
Ik kreeg de Perfume Oil mee naar huis en ik ben er echt dol op! Het aanbrengen gaat makkelijk met het kleine spateltje dat aan het dopje vastzit. In breng het aan op beide polsen en in mijn hals en de geur blijft echt de hele dag hangen. Héérlijk! 🙂
De Red Musk Parfum is reeds verkrijgbaar bij alle filialen van The Body Shop.
Prijzen: Eau de Parfum (60 ml) € 40 / Eau de Parfum (100 ml) € 55 / Parfum Olie ( 30ml) € 22,50
Zou deze geur wat voor jou zijn?
Volg Nymphette op Twitter – Bloglovin – YouTube – Facebook – Instagram