Schoon water is voor ons een basisbehoefte, wat zouden we zonder zijn? Toch is dit in heel wat landen niet vanzelfsprekend. Daarom tovert Aveda de maand April om in Earth Month! Heel deze maand doneert Aveda het volledige aankoopbedrag van de limited edition 'Light The Way' Candle aan het goede doel! Ik vertel er je vandaag graag meer over.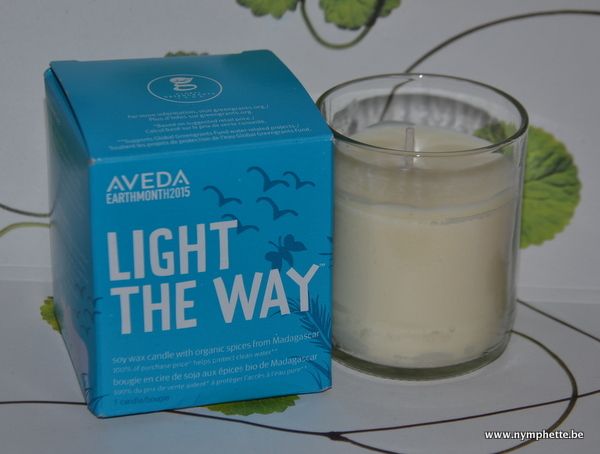 De Light The Way Candle zit in een herbruikbaar glazen flesje en zelfs het karton van de verpakking is gemaakt van vellen kladpapier die normaal in de recycling stroom komen. De kaars heeft een bloemen- en planten aroma, gemaakt van 100% gecertificeerd organische oliën van vanille, kaneel en ylang-ylang uit Madagascar. De geur is best kruidig, maar wel lekker! Deze kaars vult de omgeving 27 uur lang met zijn rijke en kruidige geur.
Aveda en haar salons stellen zichzelf als doel om in de maand April $ 6,5 miljoen in te zamelen voor wereldwijde waterprojecten. Aveda Benelux werkt dit jaar opnieuw samen met Justdiggit. Justdiggit is een organisatie die de strijd aangaat tegen klimaatverandering en woestijnvorming. Dit geeft problemen als waterschaarste, honger en armoede. Door deze kaars te kopen zorg je ervoor dat er genoeg geld wordt ingezameld om een watersysteem op te bouwen zodat gezinnen weer gezond water kunnen drinken.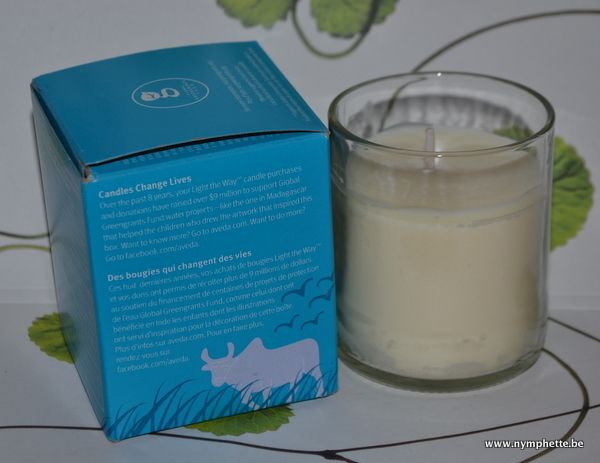 Je kan de Light The Way Candle kopen in alle Aveda salons en spa's voor € 15. Het dichtstbijzijnde Aveda salon vind je op de Aveda Website! Altijd fijn als je bij de aankoop van een leuk beautyproduct ook nog eens een goed doel kan steunen! En zeker omdat Aveda het VOLLEDIGE aankoopbedrag schenkt, dat gebeurt niet vaak!
Hou jij van geurkaarsen? Ga jij deze aankopen?
Volg Nymphette op Twitter – Bloglovin – YouTube – Facebook – Instagram