Twee weken geleden ging ik gezellig ontbijten met The Body Shop. Er werden heel wat nieuwigheden voorgesteld, zoals een nieuwe skincare én bodycare lijn (daarover later meer!), maar ook hun nieuwste geur uit de Voyage Collectie, Italian Summer Fig!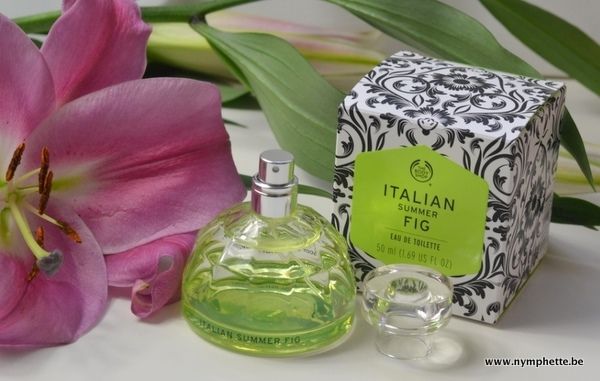 The Body Shop neemt ons mee op 'Scented Journey' naar het zonovergoten Puglia, in het zuiden van Italië. Hier vonden ze namelijk een uniek ingrediënt voor een nieuwe, zomerse geur. Sappige vijgen, langzaam gerijpt onder de Italiaanse zon, zijn uiteraard het hoofdingrediënt voor deze geur. Verder bevat deze de koele frisheid van groene noten als druivenblad en krokus. De noten van Toscaanse Roos en Amber maken deze geur dan weer erg vrouwelijk.
Bij de eerste 'snif' was ik er niet meteen weg van, tot ik hem echt ging dragen. Nu vind ik hem héél erg fijn. Hij is fris, zoet, vrouwelijk en erg zomers. Zeker is aan snuffelen als je nog eens bij The Body Shop bent! 🙂
Het Italian Summer Fig Parfum is reeds te koop in alle filialen van The Body Shop voor € 27. Er is ook een Fragrance Mist (€ 13), een Shower Gel (€ 10), een Body Lotion (€ 12,50) en een Body Cream (€ 18) in deze geur te koop. Zijn vijgen niet meteen je ding? In de Voyage lijn vind je ook fruitige, bloemige geuren als Japanese Cherry Blossom en Indian Night Jasmine.
Zijn jullie benieuwd naar deze geur?
Volg Nymphette op Twitter – Bloglovin – YouTube – Facebook – Instagram