Ik ben al jaren fan van het roze sponsje, ook wel bekend als de beautyblender. Ik gebruik het om mijn foundation, concealer en cream blush mee aan te brengen en heb al meermaals een nieuw exemplaar gekocht. Sinds een tijdje heb ik nu ook een mini beautyblender van de webshop Born Pretty Store, speciaal om mijn concealer mee aan te brengen. Benieuwd of ik deze even fijn vind? Lees dan zeker even verder.
Hier zie je hem in vergelijking met de originele beautyblender. Deze is dus een stuk kleiner en ideaal om concealer mee aan te brengen onder je ogen, naast je neus,… En daar gebruik ik hem ook voor! Het sponsje is klein, maar toch kan je hem best goed vasthouden. Hij is niet te hard en vormt dus mee met de contouren van je gezicht. Ik vind deze mini beautyblender écht heel fijn in gebruik. Ik gebruik hem graag in combinatie met mijn NARS of Urban Decay Concealer, perfect om ze mooi in mijn huid te blenden. Ik ben dus best tevreden met deze en kan hem zeker aanraden!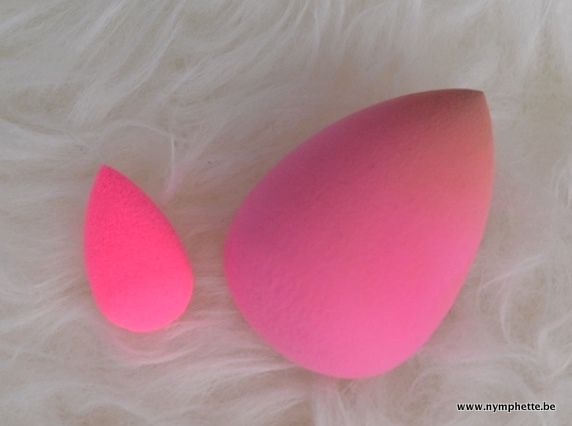 Deze Mini Beautyblender is te koop op Born Pretty Store  voor $ 1,59, dat is ongeveer € 1,50! Héél goedkoop dus! 🙂 Met de code MAJH10 krijg je ook nog eens 10% korting! De levering duurt ongeveer 2 tot 4 weken, maar is wel netjes ingepakt enzo. Zeker een fijne webshop, met héél wat leuke items!
Heb jij al een beautyblender in je stash?
Volg Nymphette op Twitter – Bloglovin – YouTube – Facebook – Instagram