The Body Shop lanceerde onlangs een nieuwe collectie, British Rose. De collectie bevat een aantal fijne lichaamsproducten, maar ook enkele mooie make upjes! Ik review vandaag vier producten uit deze mooie collectie!
De British Rose Collectie is een fantastische collectie. Rozen worden al eeuwenlang bewonderd om hun geur en schoonheid. De rozen die gebruik worden voor deze producten worden speciaal voor The Body Shop gekweekt op een milieu-award winnende kwekerij hartje Engelse countryside. Ze worden met de hand geplukt, gedroogd aan de lucht en ter plekke geweekt in het frisse bergwater. Dit levert de allerhoogste kwaliteit rozenessence voor de producten op.
Het British Rose gamma bevat een aantal producten: een Shower Gel, een Petal-Soft Bath Foam, een Petal-Soft Hand Cream, een Eau de Toilette, een Exfoliating Soap, een Exfoliating Gel Body Scrub, een Instant Glow Body Essence en een Instant Glow Body Butter. De collectie bevat ook enkele make upjes: Lip & Cheek Stains, een Eye & Cheek Palette en een Nail Colour.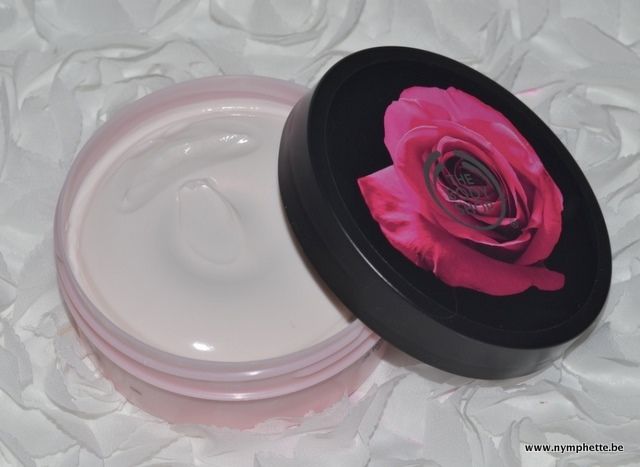 De British Rose Instant Glow Body Butter (€ 16 – 200 ml) heeft een lichte textuur en voelt heerlijk zacht aan op je huid. Hij zorgt voor de nodige hydratatie zoals we wel gewend zijn van de bodybutters van The Body Shop. Al is deze net iets anders, want hij laat ook een mooie glow achter. Hij bevat geen glitters, maar hij zorgt er echt voor dat je huid straalt. De geur is héérlijk, echt, een frisse rozengeur zonder ouderwets te zijn. Ja, ik ben fan!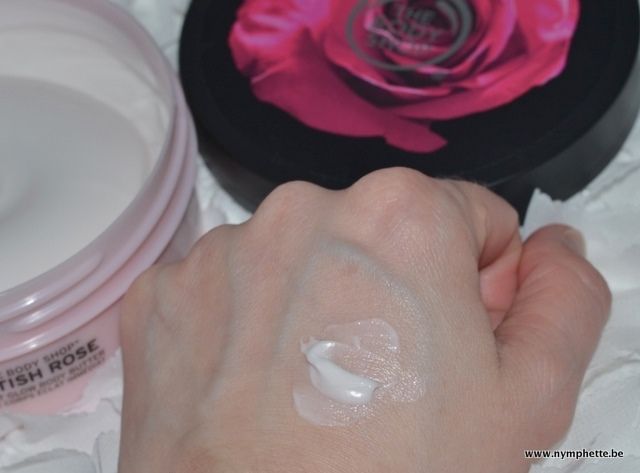 Textuur Instant Glow Body Butter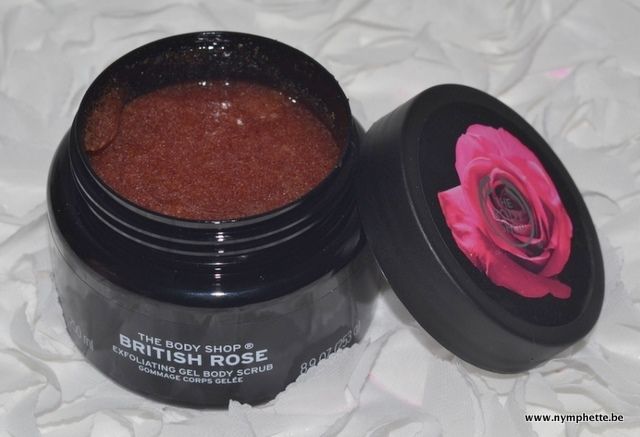 De British Rose Exfoliating Gel Body Scrub (€ 18 – 250 ml) heeft een gel textuur met echte rozenblaadjes. De gel smelt op je huid en scrubt op een milde manier je huid. Dit is een vrij zachte scrub, ideaal voor de gevoelige huidjes. Na gebruik voelt mijn huid superzacht aan en straalt ze. Opnieuw een aanrader!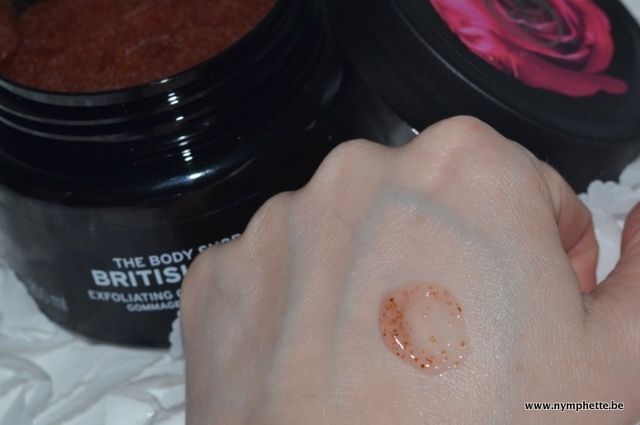 Textuur Gel Exfoliating Body Scrub 
De Petal-Soft Bath Foam (€ 7 – 250 ml) is een badschuim met een heerlijke frisse rozengeur. Het badschuim heeft een lichtroze kleur en zorgt voor heel wat schuim dat zijdezacht aanvoelt op je huid. De rozengeur werkt enorm ontspannend, wat me echt deed genieten van dit heerlijke badje!
Als laatste zit er ook een Exfoliating Soap (€ 3,50 – 100g) in het British Rose gamma. Ideaal om je handen mee te wassen en ze lichtjes te scrubben.
Ik ben héél blij met deze nieuwe lijn van The Body Shop! Ik ben dol op producten met een rozengeur én deze nieuwe lijn is echt ZALIG! De lijn heeft een frisse, romantische rozengeur die bij veel mensen in de smaak zal vallen!
De British Rose Collectie is reeds te koop in alle winkels van The Body Shop.
Ben jij fan van producten met een rozengeur?
Volg Nymphette op Twitter – Bloglovin – YouTube – Facebook – Instagram