Do good and good will come your way… Dat is dé quote die centraal staat in het nieuwste Rituals gamma! 'The Ritual Of Karma' Collectie is Rituals zomercollectie en omg wat is deze geur weer fijn!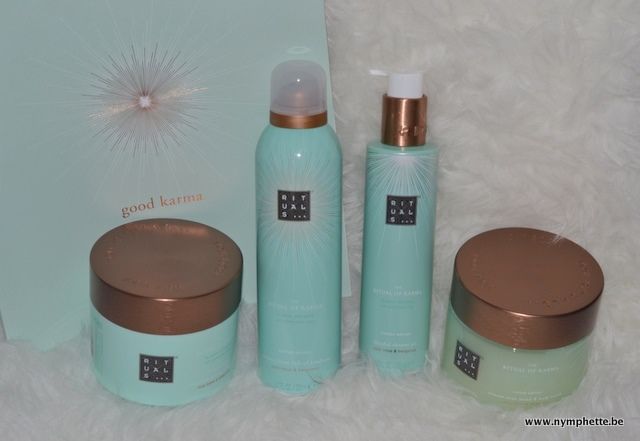 Volgens een eeuwenoud hindoe geloof, creëer je good karma door te leven met goede intenties. Denk positief, zeg goede woorden, doe goede daden en het leven beloont je met positieve ervaringen. De producten bevatten Holy Lotus wat zorgt voor de zoete, bloemige geur en Bergamot, wat zorgt voor de frisse, zomerse geur.
The Ritual Of Karma Collectie bestaat uit 7 producten: een douchefoam, een bodycrème, een douche olie, een bodyscrub, een bed & body mist, een geurkaars en geurstokjes. Ik testte vier producten uit van deze collectie en ben fan!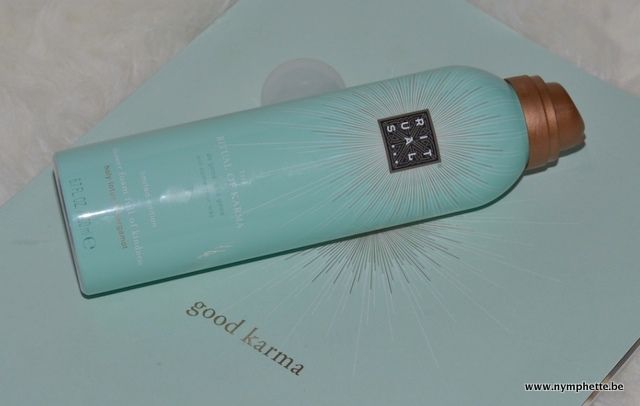 De Shower Foams (€ 8,50) zijn misschien wel dé populairste producten bij Rituals. The Ritual Of Karma ShowerFoam heeft een gel textuur dat al snel verandert in een romig schuim dat superzacht aanvoelt op je huid. De geur is fris, en een tikkeltje bloemig. ZALIG! Net als de andere showerfoams kan ik deze alleen maar aanraden!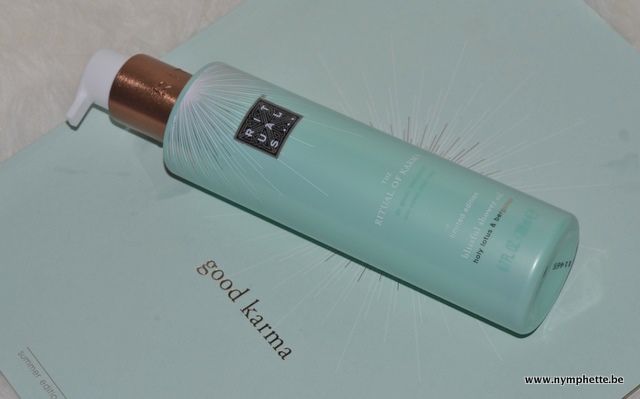 The Ritual Of Karma Shower Oil (€ 8,50) heeft dezelfde frisse, bloemige geur die echt zalig is! De Shower Oil heeft een olie textuur die bij contact met water verandert in een zijdezacht schuim. De olie voelt superzacht aan op je huid en hydrateert mijn huidje super. Ook dit is een nieuwe favoriet!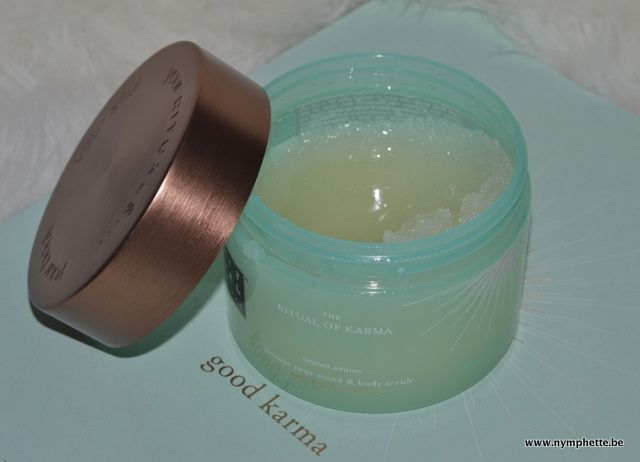 In het gamma zit ook een grote pot Body Scrub (€ 19,50) op basis van suiker en olie. Dit is best een stevige scrub, maar hij irriteert mijn huid niet. Hij maakt mijn huidje erg zacht en laat een voedend laagje achter. Een héérlijke scrub!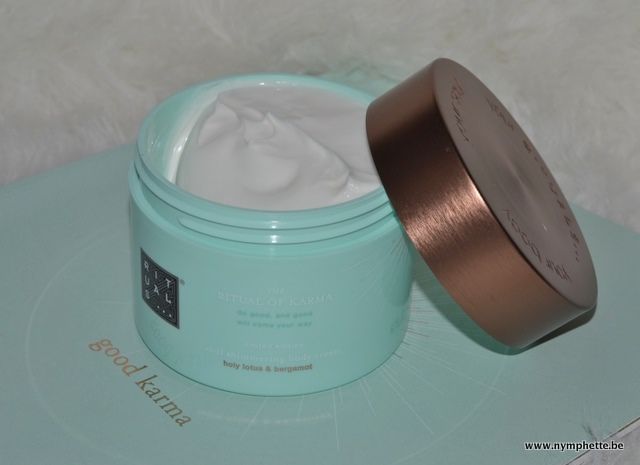 The Ritual Of Karma Body Cream (€ 17,50) zit in een grote ronde pot. Het is een rijke, romige crème die de huid goed gaat verzorgen en zijdezacht laat aanvoelen. Hij bevat trouwens ook gouden shimmers, wat een mooi effect geeft op je huid.
Zoals je wel kan lezen ben ik groot fan van deze zalige collectie! Wil je ook iets uitproberen uit deze 'The Ritual Of Karma' Collectie? Wees er dan snel bij, want deze collectie is jammer genoeg limited edition!
Wat is jouw favoriete Rituals product?
Volg Nymphette op Twitter – Bloglovin – YouTube – Facebook – Instagram