Op de blog van Charline lees ik regelmatig een 'Project Pan That Product' artikel. Hierin toont Charline de make upjes die zij wil opmaken, met regelmatig een update. Ik werd geïnspireerd en heb ook wel wat make upjes die bijna op zijn, en die ik graag wil opmaken. Daarom vandaag ook hier een Project Pan That Make Up artikel!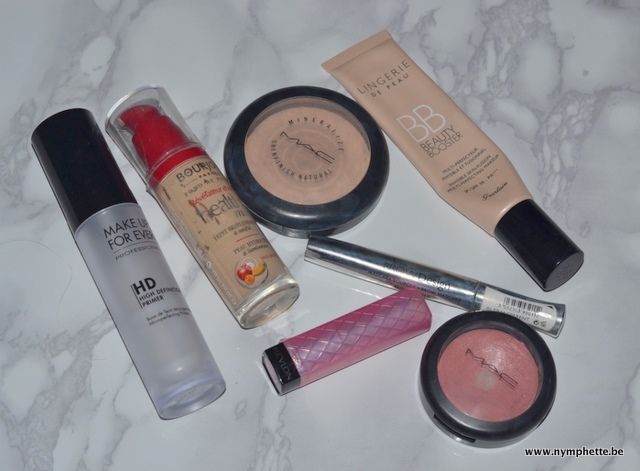 Ik heb 7 make upjes verzameld die bijna op zijn en die ik eerst even wil opmaken voor ik weer andere make upjes aankoop. Het zijn een aantal favorieten, dus absoluut geen straf om deze eerst op te maken. 😉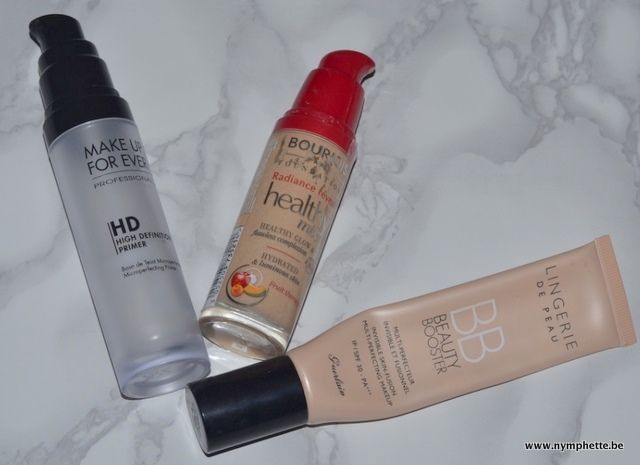 De Make Up For Ever HD Primer is al een tijdje vervangen door nieuwe primers en deze is niet meer te koop. Ik kocht dit flesje nog in NY en dat is ondertussen bijna twee jaar geleden. Tijd dus om deze eerst op te maken! Ik denk dat er nog 1/3 in het flesje zit. De Bourjois Healthy Mix Foundation is één van mijn favoriete foundations dus deze ga ik met alle plezier opmaken. Ook deze zit nog voor 1/3 gevuld. De Guerlain Lingerie de Peau Beauty Booster is mijn favoriete zomer foundation dus deze tube zal snel op zijn denk ik. Ik denk dat ik met deze nog een weekje verder kan en dat hij dan helemaal op is.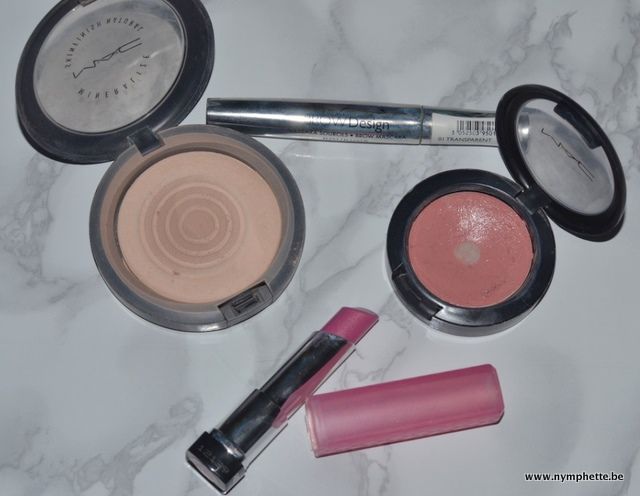 In mijn MAC MSF Natural Powder heb ik al flink de pan geraakt. Dit poeder is dus bijna op, al kan ik er wel nog enkele weken mee verder denk ik. Ook in de MAC LadyBlush Creamblush heb ik de pan geraakt. Een creamblush is best zuinig in gebruik, dus deze is nog niet meteen op. De Bourjois Brow Design doorzichtige wenkbrauwgel ligt al een tijdje in mijn Muji laadje, maar is ook bijna leeg. Deze ga ik de komende week eerst even opmaken. De Revlon Lip Butter in de kleur Cotton Candy is één van mijn favoriete lip producten. Deze heb ik al een tijdje, dus wil ik snel opmaken voor hij 'slecht' is. Dat zou zonde zijn!
Ik ga aan de slag met het opmaken van deze mooie make upjes, dat is geen straf! 😉 Volgende maand geef ik je zeker even een update van welke make upjes op zijn.
Doe jij ook mee aan de Project Pan That Make Up Challenge?
Volg Nymphette op Twitter – Bloglovin – YouTube – Facebook – Instagram