L'Occitane heeft het hele jaar door fijne cadeausets beschikbaar. Speciaal voor de Kerst  zijn er ook een aantal nieuwe cadeautjes bijgekomen. Vandaag toon ik je hét perfecte Kerstcadeautje voor je mama, je zus, een goede vriendin,…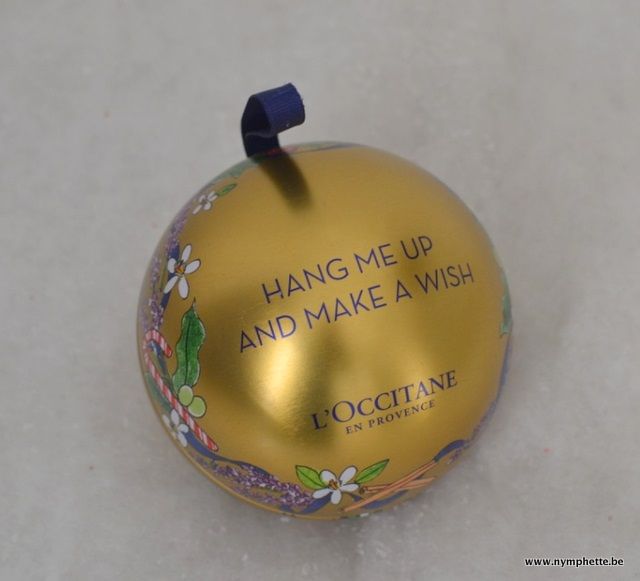 Hoe leuk is dit?! Een kerstbal om in je kerstboom te hangen met een leuke quote! 'Hang me up and make a wish'.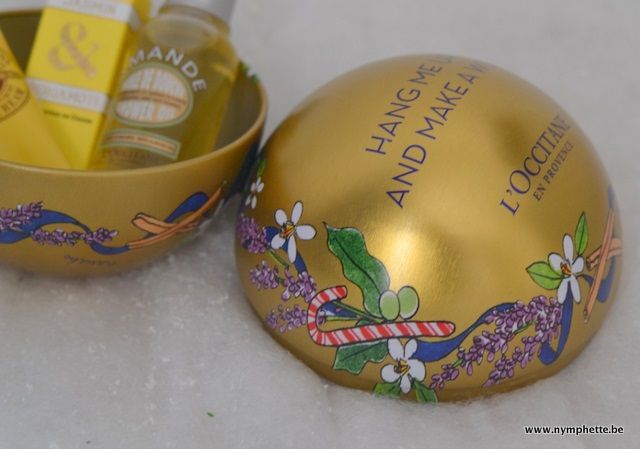 Er zijn verschillende varianten te koop, maar ik kreeg de gouden bal met mooie printjes van bloemen en een candy cane.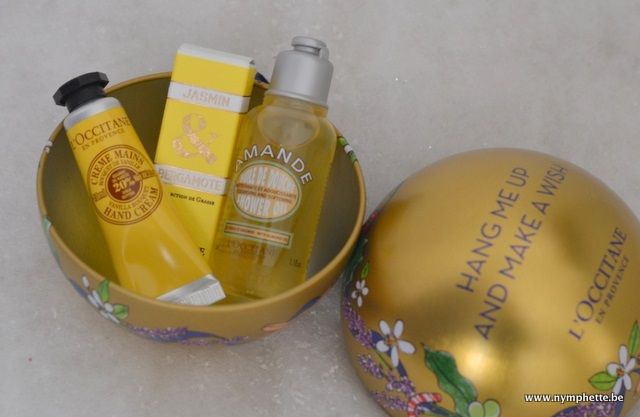 In de kerstbal zitten drie mini producten. In deze gouden variant zit:
1 Jasmin & Bergamot Eau de Toilette 7,5 ml
1 Almond Shower Oil 35 ml
1 Shea Butter Vanilla Hand Cream
Ik ben heel blij met deze inhoud! De Amande Shower Oil is al jaren een favoriet en ik ben blij dat ik hem nu weer in mijn douche heb staan, ook al is het maar een mini. De handcrèmes van L'Occitane zijn mijn favoriete handcrèmes, dus ook hier ben ik erg blij mee. En de parfum ruikt ook héél erg lekker. Ik ben blij met deze mini's, altijd handig voor op vakantie! 🙂
Er zijn enkele varianten beschikbaar van deze leuke kerstbal. Ze zijn te koop in de L'Occitane winkels of de webshop voor € 12,50. Een mooie prijs voor zo'n leuk cadeautje!
Wat is jouw favoriete L'Occitane product?
Volg Nymphette op Twitter – Bloglovin – YouTube – Facebook – Instagram