Reinigen is stap één in een goede skincare routine. Ik reinig het liefst met een olie of een micellaire lotion. Diadermine bracht enkele maanden geleden twee nieuwe micellaire lotions uit en ik mocht ze uittesten!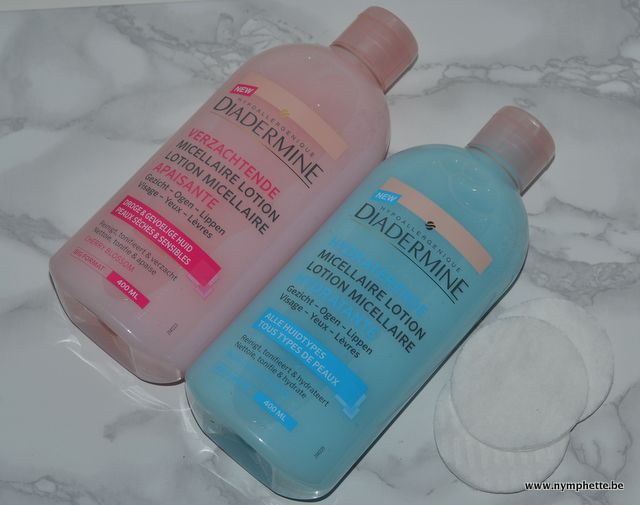 Er zijn twee varianten: een hydraterende en een verzachtende micellaire lotion. Ze hebben allebei een melkachtige formule en reinigen je huid in alle zachtheid.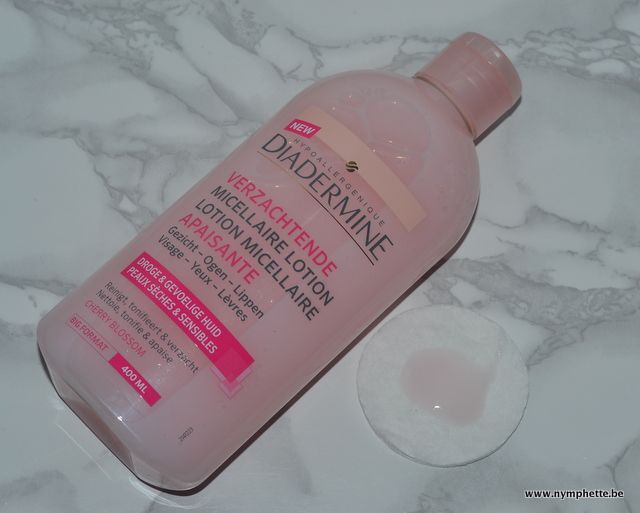 De verzachtende micellaire lotion heeft een formule met amandelolie en kersenbloesemextract. Deze is geschikt voor een droge en gevoelige huid en reinigt de huid zonder te irriteren. Deze belooft je huid te verzachten, te hydrateren en te tonifiëren.
Deze micellaire lotion heeft een melkachtige textuur, wat erg zacht aanvoelt op mijn huid. Ik gebruik deze niet echt voor mijn (oog)make up te verwijderen, maar wel om mijn gezicht te reinigen. Dat doet deze goed, zonder te irriteren.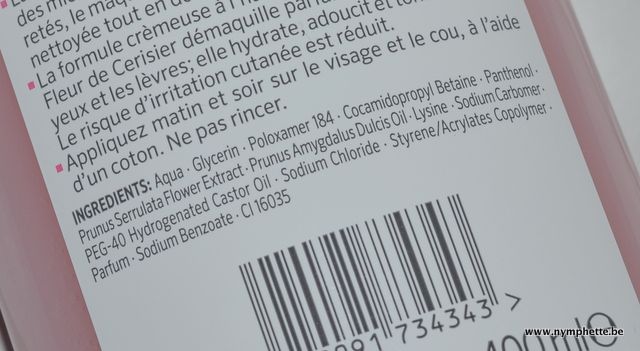 Ingrediënten verzachtende micellaire lotion
De hydraterende micellaire lotion heeft een formule met arganolie en blauwelotusextract. Deze is geschikt voor alle huidtypes en reinigt de huid op een frisse, zachte manier.
Ook deze micellaire lotion vind ik erg fijn om mijn huid te reinigen. Deze verfrist mijn huid meteen en laat mijn huid niet trekkerig achter.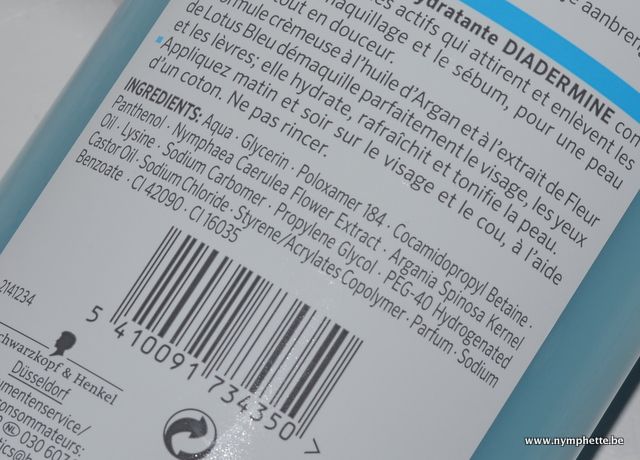 Ingrediënten hydraterende micellaire lotion
De Diadermine Micellaire Lotions zijn reeds te koop in je supermarkt of het Kruidvat voor € 5,99 / stuk.
Met wat soort product reinig jij je huid het liefst?
Volg Nymphette op Twitter – Bloglovin – YouTube – Facebook – Instagram