Nog geen cadeautje voor Valentijn? Dan is deze 'Honey for my Honey' massageset van RainPharma ideaal! Deze set bevat namelijk een héérlijk massage product! Benieuwd? Lees dan zeker even verder…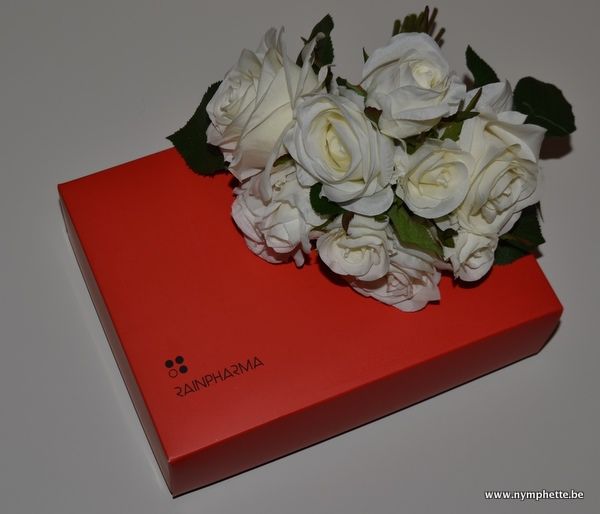 De 'Honey For My Honey' geschenkset zit (speciaal voor Valentijn) in een rood doosje. Leuk! Al is de inhoud natuurlijk nog leuker 😉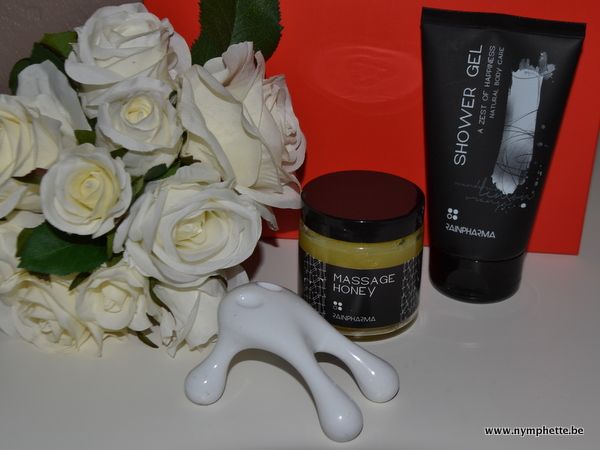 De set bevat een fullsize Massage Honey, een massagetool en een mini van de 'A Zest Of Happiness' Shower Gel. Fijn cadeautje, zeker voor Valentijn! Kan je meteen aan de slag met die héérlijke massage 😉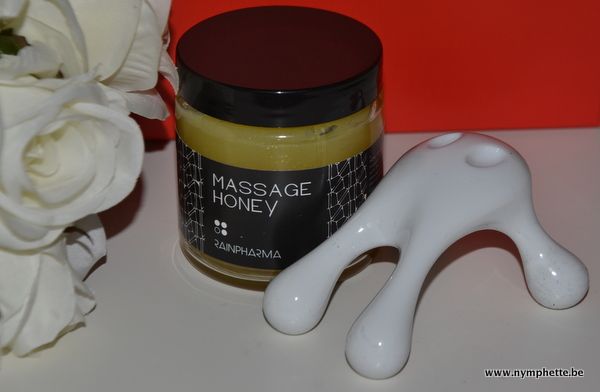 Een massagehoning? Dat is iets nieuws! 🙂 De textuur van deze doet je meteen denken aan honing, maar dan niet zo kleverig (gelukkig maar 😉 ) Je neemt een beetje product tussen je vingers, even opwarmen en masseren maar! Wanneer deze massagehoning in contact komt met de warmte van je huid, transformeert deze in een olie. ZALIG! De geur is erg fris en citrusachtig, i like! Deze bevat trouwens Vitamine E, wat ook nog is voedend werkt voor de huid. Je kan het product laten inwerken of je spoelt het af onder de douche. Wanneer de olie in contact komt met water, wordt het een melktextuur, makkelijk om af te spoelen dus. Ik laat het gewoon lekker inwerken, dan heb je achteraf echt een superzachte huid! Ook het massagetooltje voelt best fijn aan op je huid.
De Massage Honey is ook apart te koop voor € 17,95. Zeker een aanrader! 🙂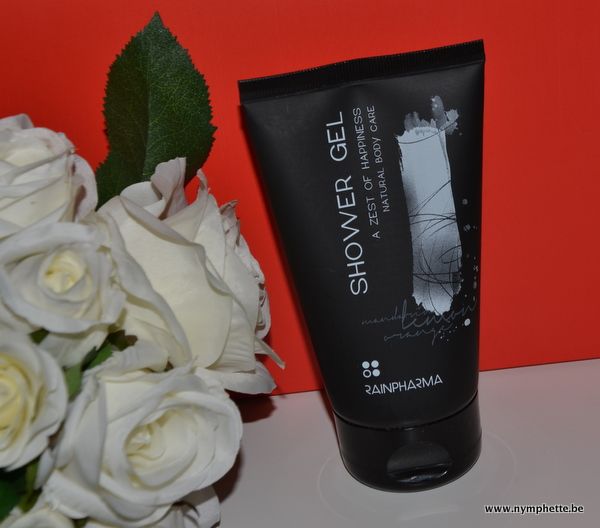 De 'A Zest Of Happiness' Shower Gel heb ik al eerder gehad en ik ben er dol op! Deze douchegel bevat fijne ingrediënten en ruikt héérlijk fris. Hij bevat nl. geurnoten van mandarijn, citroen en sinaasappel. Een frisse citrus douchegel, ideaal om je 's ochtends een vrolijke start van de dag te geven.
De 'Honey For My Honey' Set is te koop bij de RainPharma winkel in Antwerpen (of de webshop) voor € 24,95.
Heb jij al een Valentijnscadeautje voor je vriend(in)? En oh, single ladies, vergeet vooral jezelf niet te verwennen met een leuk cadeautje 😉
Volg Nymphette op Twitter – Bloglovin – YouTube – Facebook – Instagram