Ik ben nog steeds fan van Hello Kitty! Ik was dan ook erg blij toen ik las dat OPI nu een Hello Kitty Collectie uitbrengt! Zo leuk! Kijk je mee naar deze schattige collectie?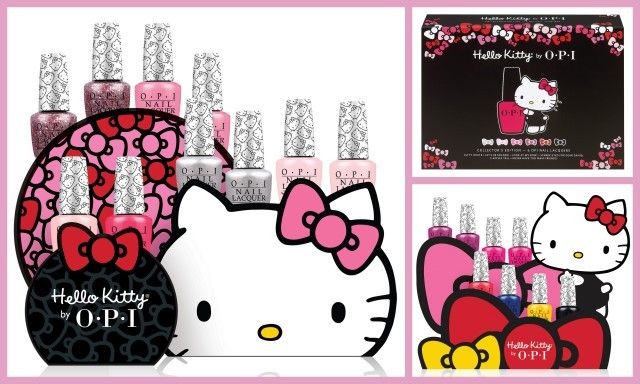 De collectie bevat 12 nieuwe limited edition kleuren, van roze tinten tot fellere kleurtjes. Ik toon je alle kleurtjes én de speciale setjes.
Kitty White: parelwitte kleur.
Let's Be Friends: een poederroze kleur.
Charmmy & Sugar: Glinsterende roze kleur.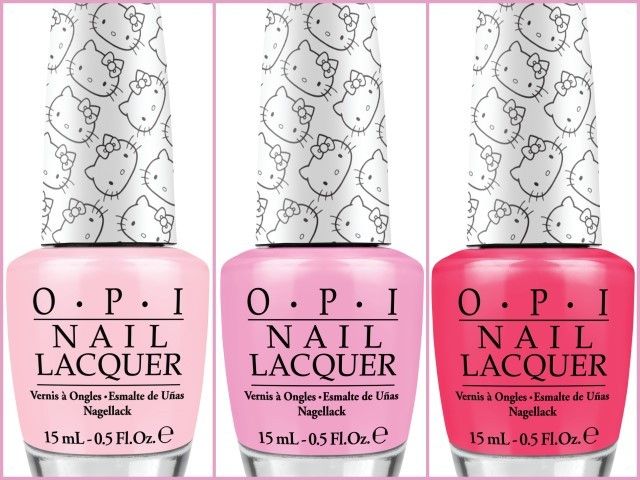 Small + Cute : baby pink.
Look at my bow: zoete, roze kleur.
Spoken from the Heart: koraalrode kleur.
Super Cute in Pink: Paarsroze kleur.
Starry-eyed for Dear Daniel: glitter roze kleur.
5 Apples Tall: appelrode kleur.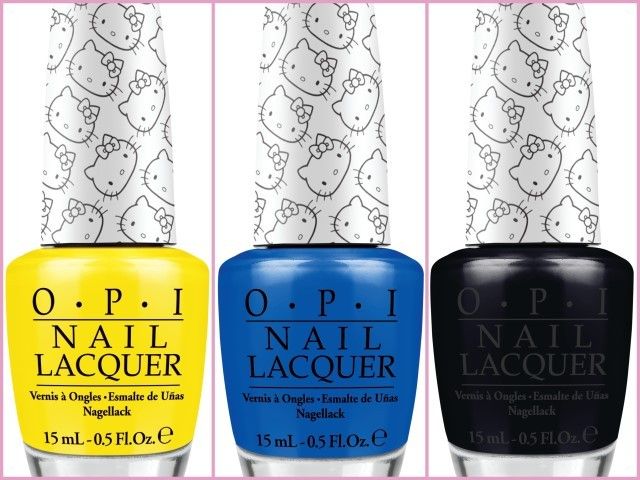 My Twin Mimmy: zonnige gele kleur.
My Pal Joey: helderblauwe kleur.
Never had Too Mani Friends!: zwarte kleur.
Deze Hello Kitty by OPI nagellakjes zijn  vrij van tolueen, DBP en formaldehyde en bevatten het revolutionaire ProWide penseel, waardoor het makkelijk is om egaal en streepvrij te lakken. De nagellakken zijn te koop voor € 14,95 / stuk.
Maar zoals altijd is er ook een mini pack te koop met enkele mini nagellakjes. Het Hello Kitty Friend Mini-pack (5x 3,75 ml) is te koop voor € 29,80. Je krijgt er ook nog een gratis Hello Kitty Nail art Brush bij!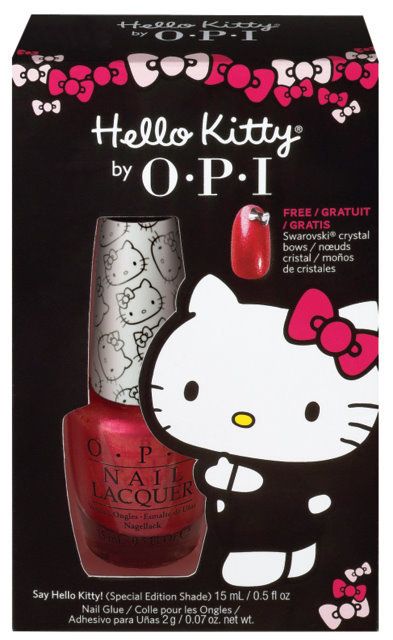 Maar in deze collectie is er ook een Special Edition Shade te koop. 'Say Hello Kitty!' is een prachtige donkerroze kleur. Deze is te koop in een set met 2 Swarovski Crystal Bows voor € 29,80.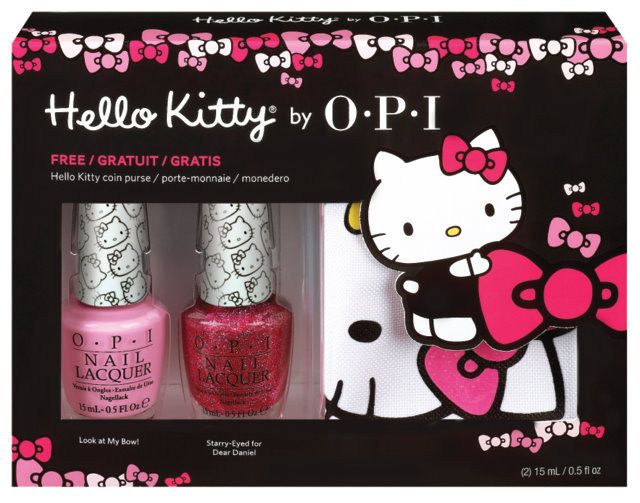 Mijn favoriete setje is dit 'Coin in my Purse duo-pack'. Hierin zitten 2 nagellakjes (Look at my bow en Starry-eyed for Dear Daniel) en een Hello Kitty portemonnee. Dit setje is te koop voor € 27,90.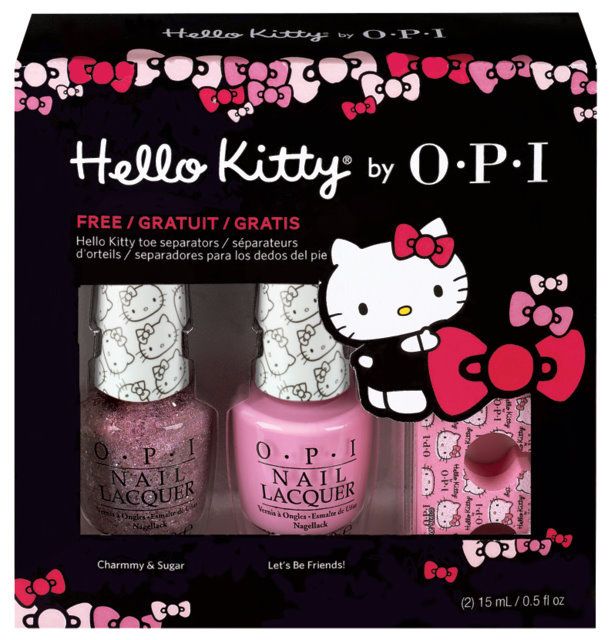 Het 'Say Hello to Pedi' duo-pack bevat 2 nagellakjes (Charmmy & Sugar en Let's Be Friends) en Hello Kitty teenspreiders en is te koop voor € 27,90.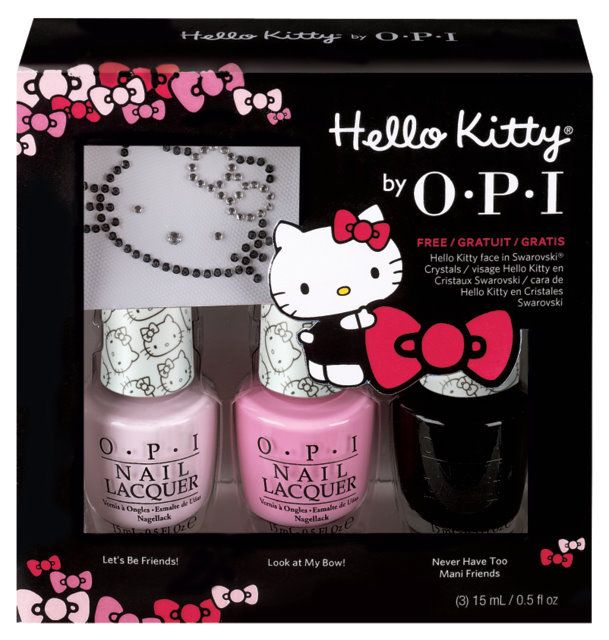 Het triopack 'Sparkle and Shine' bevat 3 nagellakjes (Let's Be friends, Look at my bow en Never have too mani friends) en een gratis Swarovski Hello Kitty figuur. Deze mooie set is te koop voor € 39,90.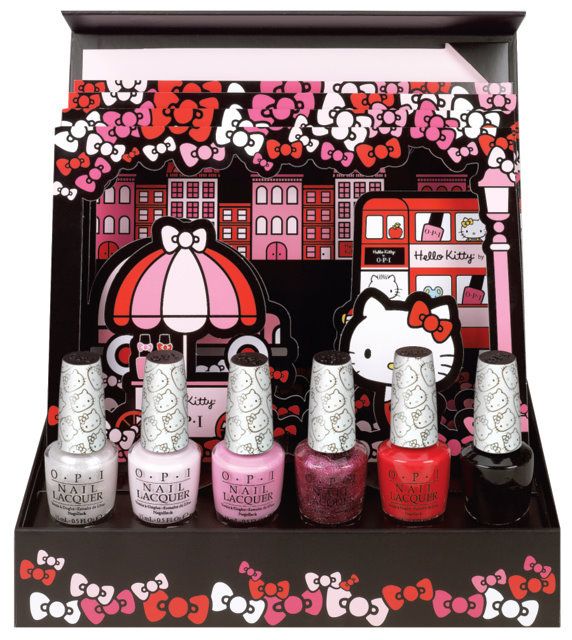 Voor de échte Hello Kitty verzamelaars is er de Collector's Edition Box die 6 nagellakjes bevat in een prachtige 3D collector's box. Deze is te koop voor € 84,40. Een mooi item!
Wat een prachtige collectie! Mijn favoriete kleurtjes zijn de roze tinten, waarvan ik er zeker enkele ga bestellen. 🙂
De Hello Kitty by OPI collectie is verkrijgbaar in een beperkte selectie OPI salons en op de OPI webshop.
Wat is jouw favoriete kleurtje van deze lieve collectie?
Volg Nymphette op Twitter – Bloglovin – YouTube – Facebook – Instagram