De afgelopen weken hebben we goed kunnen genieten van het heerlijke zomerse weer. Ik kon dus eindelijk zonneproducten uittesten! Ik testte een aantal zomerse musthaves van La Roche Posay!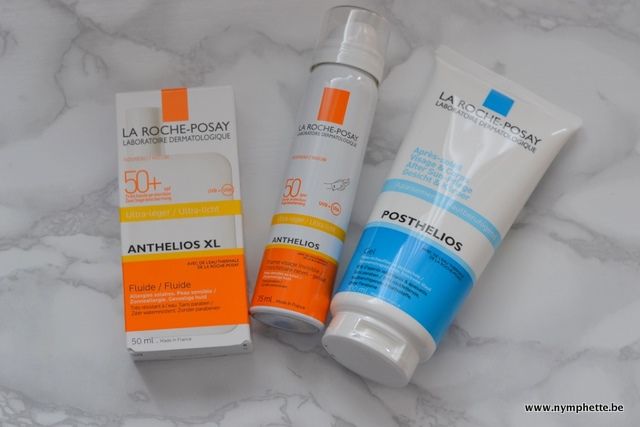 Ik testte drie zonneproducten uit: de Anthelios Fluide SPF 50, de Anthelios Face Mist SPF 50 en de Posthelios After Sun Gel.
De Anthelios XL Fluide (€ 17,95) heeft een lichte textuur en is geschikt voor de gevoelige huidjes en mensen met een zonneallergie. De fluide zit in een flesje van 50 ml en is handig om mee te nemen op vakantie of in je handtas. Hij heeft een lichte textuur, is waterresistant en dringt snel in je huid.  Hij heeft een SPF 50, UVB en UVA bescherming en biedt dus een hoge bescherming tegen de zonnestralen. Ik gebruik deze nu al enkele weken en ben fan! Op zéér warme dagen gebruikte ik deze zelfs als dagcrème, en dat ging prima. Een absolute aanrader!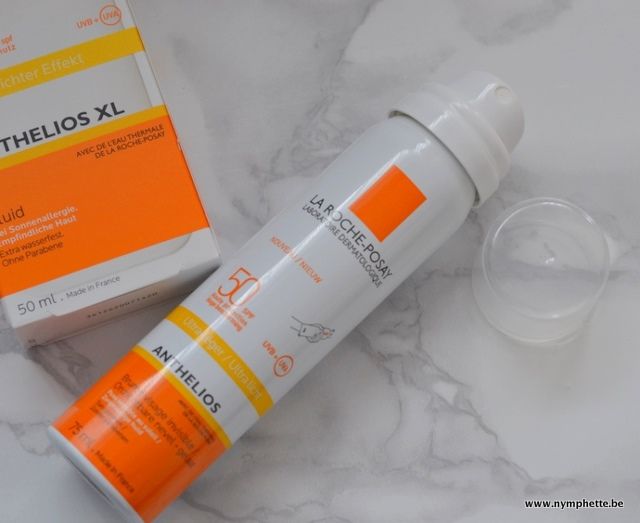 De Anthelios SPF 50 Face Mist (€ 12) is nieuw sinds dit jaar en zo handig! Deze face mist verfrist je huid meteen én bevat een SPF 50! Hij heeft ook een UVA en UVB bescherming voor een goede bescherming tegen zonnestralen. Hij heeft een lichte textuur en voelt erg verfrissend aan. Zalig tijdens de warme zomerdagen! Deze is heel handig als je make up draagt en je toch extra wil beschermen doorheen de dag. Een gewone zonnecrème aanbrengen bovenop je make up is niet zo'n goed idee, maar deze spray biedt de oplossing! Even sprayen en klaar. Spray wel van een afstand van +- 30 cm, anders kan het zijn dat je een witte waas krijgt. Ik spreek uit ervaring 😉 Maar deze spray is een musthave in mijn handtas op warme zomerdagen!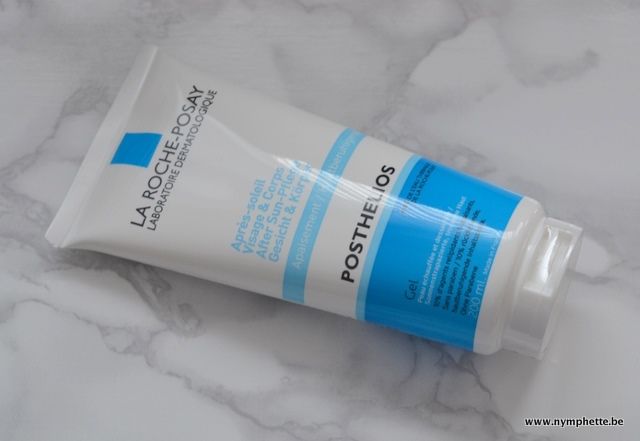 Ook voor na het zonnen reken ik de laatste weken op La Roche Posay. De Posthelios After Sun Gel (€ 17,20) is geschikt voor gezicht en lichaam en zit verpakt in een handige tube. Deze verzachtende gel voelt erg fris aan op je huid en verzacht een verbrande huid meteen. Hij hydrateert de huid intensief en bevordert het huidherstel. Hij kalmeert, hydrateert en herstelt de huid dus, alles wat je zoekt in een aftersun! Eén van de beste aftersuns die ik al gehad heb!
Deze La Roche Posay zonneproducten zijn stuk voor stuk aanraders en vind je vanaf nu elke zomer in mijn badkamerkastje! 🙂 La Roche Posay is te koop bij de apotheek of iU. Er zijn ook een aantal webshops die de La Roche Posay producten verkopen.
Gebruik jij soms producten van La Roche Posay?
Volg Nymphette op Twitter – Bloglovin – YouTube – Facebook – Instagram