Tijdens deze warme zomerdagen is een foundation niet altijd zo fijn. Dan gebruik ik liever een foundation met een lichte textuur, of een BB cream. Onlangs ontdekte ik een nieuwe BB Cream, de Vichy Idéalia BB Cream!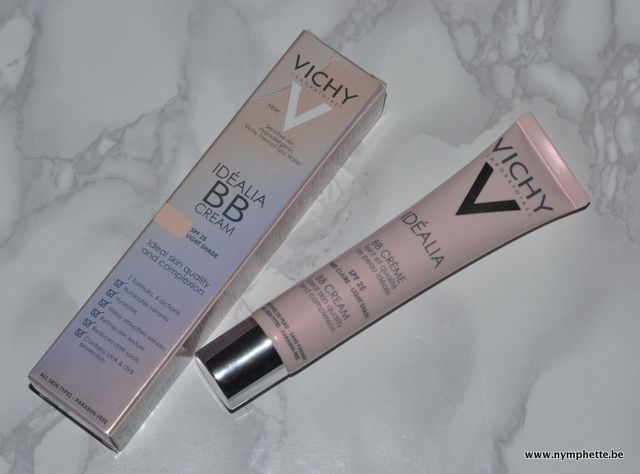 De Vichy Idéalia BB Crème bevat Thermaal Bronwater van Vichy en belooft je huid te hydrateren, verhelderen en hij beschermt je huid ook met een SPF 25 en een UVA/UVB bescherming. Verder vervaagt hij de huidstructuur en fijne lijntjes én minimaliseert hij zichtbaar donkere vlekken. Deze Idéalia BB Cream heeft dus flink wat beloftes!
De BB Cream zit in een smalle roze tube en heeft een handige opening zodat er niet te veel product uit de tube komt. Hij bevat Kombucha, een bestanddeel dat de huid gaat verhelderen. Bye bye doffe teint, hello stralende teint. Maar deze BB Cream bevat ook het Thermaal Water van Vichy, wat erg goed is voor de huid. Het vermindert huidirritaties, eczeem of acne en gaat de huid ook verzachten en hydrateren. Deze bevat geen parabenen of minerale oliën en is dus zeer geschikt voor de gevoelige huidjes.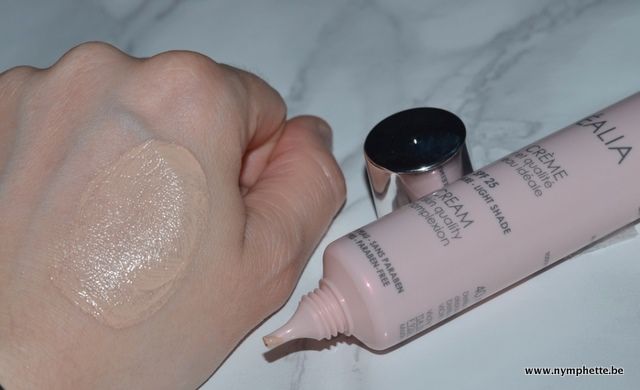 De Vichy Idéalia BB Cream is verkrijgbaar in twee tinten: Light en Medium. Ik heb zelf de lichtste kleur en die is perfect voor me. De BB Cream heeft een lichte textuur, smeert makkelijk uit en blend mooi in je huid. Ik breng hem meestal aan met mijn vingers, al kan je er ook altijd een kwast voor gebruiken. Hij geeft een lichte dekking, maar toch zijn mijn roodheden goed gecamoufleerd. Deze BB Cream laat mijn huid stralen, op een heel natuurlijke manier. Het lijkt wel of mijn huid een oppepper gekregen heeft, zo natuurlijk lijkt het. Ik vind deze erg fijn op een warme zomerdag of een luie zondag. 😉
Geen make up – enkel de BB Cream – sunday make up look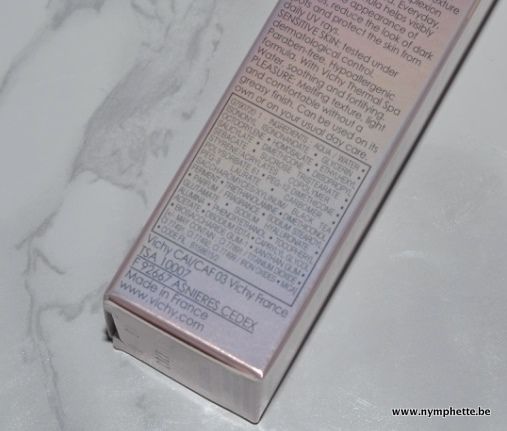 Ingrediënten Vichy Idéalia BB Cream 
De Vichy Idéalia BB Cream is te koop bij de apotheek voor € 24,95. Op deze online apotheek webshop is hij nu in korting voor € 19,95.
Gebruik jij tijdens deze warme dagen een foundation?
Volg Nymphette op Twitter – Bloglovin – YouTube – Facebook – Instagram