Je kent het wel… Je zit in de auto op weg naar het werk of op de bus naar school en denkt bij jezelf… ik had beter mijn haar kunnen wassen deze ochtend. Te laat… Of toch niet! Want met deze mini's van de Batiste Dry Shampoo's kan je op élk moment van de dag je haren een frisse touch geven!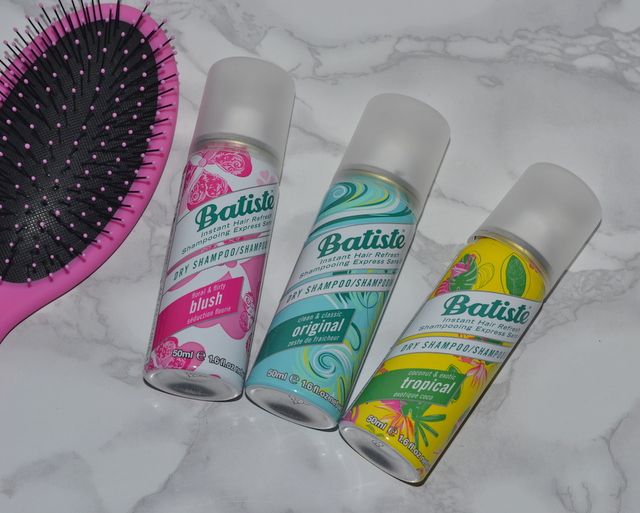 De Batiste Mini's zijn énorm handig om mee te nemen op vakantie of een weekendje weg, maar ze zijn ook perfect voor in je handtas. Ideaal voor die momenten wanneer je niet meteen de tijd hebt om je haren te wassen en je haren wel een boost kunnen gebruiken.
Er zijn een aantal varianten te koop in superleuke mini flesjes waar je meteen vrolijk van wordt. De 'Tropical' variant heeft een héérlijke kokosgeur en doet je opnieuw verlangen naar de zomer. De 'Blush' variant heeft een frisse bloemengeur en gaat je haar ook nog eens volume geven. Ben je niet zo'n fan van droogshampoo's met geurtjes, dan is er uiteraard  ook de 'Original' variant in een mini formaat. Er is ook nog een 'Cherry' variant met een zoete kersengeur, die wil ik nog wel eens uittesten!
Ik gebruik de Batiste Dry Shampoo's al jaren en het blijven mijn favoriete droogshampoo's. Ze hebben een fijne sprayflacon, en als je ze van een goede afstand (+- 30 cm) over je haar sprayt heb je geen last van een witte waas. Ze verfrissen je haar echt heel goed en ik vind het fijn dat er een aantal varianten te koop zijn!
De Batiste Mini's zijn te koop bij oa Di voor € 2,19 (50 ml). Ik heb vanaf nu standaard zo'n flesje in mijn handtas zitten voor on the go!
Welke droogshampoo is jouw favoriet?
Volg Nymphette op Twitter – Bloglovin – YouTube – Facebook – Instagram