Afgelopen week heb ik al enkele Kerstcadeautjes kunnen scoren! Er liggen dus al een aantal cadeautjes onder mijn kerstboom. Misschien moet je nog op zoek naar een cadeautje voor je papa, je vriend, je broertje,…  Kerst is er bijna en dus geef ik je graag nog wat inspiratie voor de mannen in je leven.
–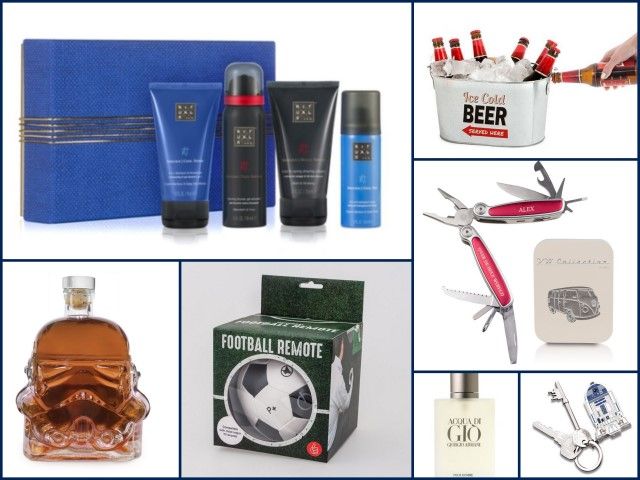 Misschien heb je wel een man in je leven die wel houdt van fijne verzorgingsproducten! Dan zit je sowieso goed met deze cadeauset van Rituals.
De meeste mannen drinken graag al wel eens een pintje, en dan is deze bierkoeler met flesopener (€ 13,99) een erg leuk cadeau! Ideaal voor tijdens een feestje, of tijdens een barbecue in de zomermaanden.
Mannen houden van werkgerei en deze multitool kan je laten personaliseren met naam. Er zit oa een tang, een schroevendraaier, en een mes in. Je kan deze hier bestellen voor € 39,90.
Star Wars blijft populair en er zijn heel wat fans, vast ook wel iemand in je familie. Deze Stormtrooper karaf (€ 34,90) ziet er niet alleen leuk uit, hij is ideaal voor de Star Wars fan die wel een glaasje lusten.
Voor de voetballer of voetbalfan in de familie is er deze leuke voetbal afstandsbediening (€ 19,99). Je kan zappen tussen je favoriete tv programma's en het geluid harder of stiller zetten. Zo leuk!
Eén van de populairste kerstcadeau's is parfum denk ik. Je kan de favoriete parfum kopen, of een douchegel of deo in dezelfde geur. Al hebben de meeste parfumerieën nu ook leuke geschenkets te koop.
Nog een Star Wars artikel, maar deze lijkt me handig voor iedereen! Deze RD2D sleutelvinder (€ 11,90) voorziet je van licht in het donker zodat je altijd het sleutelgat vindt. 😉
Je kan uiteraard ook een gepersonaliseerd cadeau laten maken zoals een mok, een iPhone cover,… met foto, dat is altijd leuk! Of een Bongo bon voor een activiteit zoals bv. rijden met een Ferarri, een parachute sprong,… Of je kan ook gaan voor een klassiek cadeau zoals een mooie das, een portefeuille of een fles wijn. Gelukkig is er voor iedereen wel een gepast cadeau te vinden! Neem zeker is een kijkje op de webshop Cadeaus.be voor nog meer inspiratie!
Ben je nog op zoek naar een cadeautje voor een Phone of Beauty addict? Lees dan hier mijn andere Gift Guide artikels!
Welk cadeau koop jij voor je vriend, papa, broer,… ?
Volg Nymphette op Twitter – Bloglovin – YouTube – Facebook – Instagram